Roxbury Poetry Festival
2021 Schedule
10:00am - 11:30am ET

Workshops & Panels

Paths to Publication

A Panel with Kristina Marie Darling, Ryan Murphy, Frances Donovan, George Abraham, Lillian-Yvonne Bertram

with publishing in journals as well as publishing a full-length manuscript.

This panel will consist of a variety of writers, editors and publishers who will discuss and answer any questions associated

Elegy in a Time of Pandemic

Writing Workshop

address? Can poems speak to job loss, loss of everyday routines, loss of future plans, and missing friends? And what if we simply can't write poems at this moment—what do we do with the loss of our sense of being poets? In this generative workshop, we'll make space for all these questions, looking to a range of elegies not for neat answers (which don't exist anyway) but a deepening of our attention to where we are, who we are, in the midst of crisis.

How do we write about grief right now, when there are so many (and simultaneous) forms of grief to

Sweet Impossible Blossom

Writing Workshop

embodied space by drawing our attention to the everyday moments in our lives that can hold meaning. We'll explore the work of contemporary poets like Aracelis Girmay, Ross Gay, and Li-Young Lee, and think through the following question: How can writing toward or from the body open up other portals of experience? By mining the mundane, we'll root ourselves in the present and reconsider what these moments can hold.

Jenna Wortham once wrote, "Embodiment is an act of resistance." In this workshop we'll write toward a more

Poetry is Not A Luxury

Reading & Discussion with Janice Lobo Sapiago & Angelo Geter

SC, Angelo Geter and the Poet Laureate of Santa Clara County, CA Janice Lobo Sapiago. Poets will perform a reading of their work and engage in conversations around poetry, civic service, and landscaping spaces for youth poets.

Hosted by the Academy of American Poets, this reading and discussion brings together the Poet Laureate of Rock Hill,
11:30am - 1:00pm ET

Workshops & Panels

Dreamscape

Future of Roxbury Panel

discussion is moderated by Marisa Luse.

This panel will consist of artists, residents, youth and city planners and will center around futurescaping Roxbury. This panel

Writing our Mothers

Writing Workshop and Panel

can we explore mothers as vessels, as nurturers, as sources of harm, as sources of healing within our work? How can we make space for our own capacity to mother ourselves? In this workshop we'll be going through a series of exercises and explorations meant to generate new work while also hearing from others about their own artistic expressions of the mother-self relationship. The reading component of this workshop will feature Crystal Valentine, Aleshea Harris, Alicia Lochard and Dasia Moore.

The poet and artist, Krista Franklin, has called mothers: "ancestral, mythical, and living." How

What Awaits Is What We Make It

Writing Workshop

hope. We'll cull together a tapestry from what we've assembled: music, film, visual art. It's in this wellspring we dream. Let's dream together.

At a moment of continued reckoning, we seek something righteous for ourselves: pleasure, witness and

At Home in the Moving Body

Connecting Body, Breath, and Image: Writing Workshop

Taking a tip from breathing exercises, we will work together to create unexpected and deep images that bear our understanding of what the body can do as an antenna for our experience of being human. Central to this will be thinking through the various migrations and motions our bodies make and have a memory of making. This will include engaging the concept of home in its complexities for the poet and the poem's speaker.

In this workshop we will connect and constellate the poet's body to the literary image and to the poetic line.
1:00pm - 2:00pm ET

Lunch Time Craft Talks & Discussions

Home Is Not A Country

written in verse. Participants are encouraged to bring their lunch on screen while enjoying this conversation.

Home is Not A Country is a talk and reading with Safia Elhillo and a Roxbury Youth Poet Laureate Finalist, Asiyah Herrera regarding Elhillo's recently released YA novel

Craft Talk w/ Rachel McKibbens

This event is in partnership with GrubStreet

vulnerability instead of an agent of confession? This craft talk encourages participants to bring their lunch on screen while enjoying a craft talk from poet and performer, Rachel McKibbens.

As poets, we use devices to resurrect or bury, but how often are we willing to lean into our own wickedness, to give it its rightful placement as the second face of our
2:00pm - 3:00pm ET

Readings, Performances & Conversations

LatiNEXT: Anthology Reading

Diannely Antigua, Malcolm Friend, Jonathan Mendoza

Poet's LatiNEXT Anthology. Closes with a Q/A.

This reading and performance features Latinext folks who were published in the BreakBeat

Flowers As They Live: Honoring Local Poets

Askia Toure, Letta Neely, Martha Collins, Moderated by Toni Bee

#LocalLivingLegends Closes with a Q/A.

This reading highlights writers who have made an impact on the poetry world nationally and locally.

How We May Appear

826 Youth Anthology Reading

authored publication features stories and poems written by young people across the city. As foreword author Amanda Gorman says: "Reading the collection from my sunlit apartment in Los Angeles, it is hard not to be struck with the vision that these authors present: a vibrant and youthful Boston, with its tongue of many languages, and heart of many songs." This performance features youth poets published in 826 Boston Poetry Anthology. The reading takes place outside the Roxbury Branch Library.

How We May Appear, the first anthology produced by 826 Boston's Youth Literary Advisory Board. This student-

50 Rappers Who Changed The World

Author Interview & Discussion

book, 50 Rappers Who Changed the World. This session, like the book, is a celebration of the musicians who shaped the genre and changed the world.

Join writer, Candace McDuffie, and poet, Ashley Rose, for a reading and discussion of McDuffie's
3:00pm - 4:00pm ET

Readings, Performances & Conversations

Halal If Your Hear Me

Anthology Reading from Dr. Seema Yasmin, Nikia Chaney, Yasmin Belkhyr

to the Breakbeat Poet Anthology: Halal If You Hear Me. Closes with a Q/A.

This reading and performance celebrates poets of the Muslim Diaspora who were contributors

Art Is Life Itself

Open Mic with Nina La Negra and Fulani Haynes

performance and culture. Sign up for the open mic when you register!

Join long-time Roxbury artist organizers, Fulani Haynes and Nina LaNegra for an open mic that celebrates

The Literary Tea

Cierra Peters and Arielle Gray, Print Ain't Dead

historical gossip associated with local and national literary movements & writers.

This casual discussion is facilitated by local collective, Print Ain't Dead and will implore the literary and

New Writing from Incarcerated and Unhoused Bostonians

w/ Jill McDonough

poems written by unhoused and incarcerated writers who have spent time in writing classrooms with Jill.

Jill McDonough will be offering some ways to think about sound and form in poems, then sharing some
4:00pm - 5:00pm ET
Keynote Address w/ Jericho Brown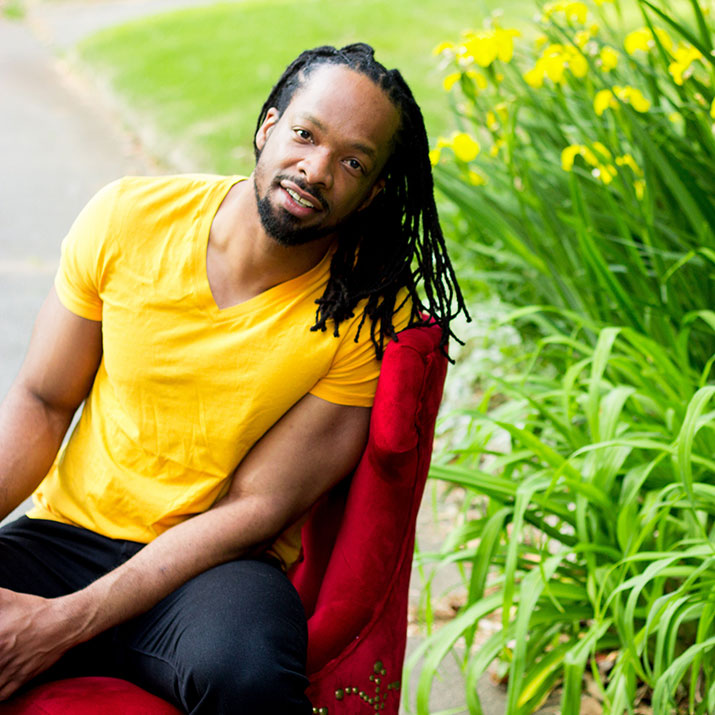 2020 Pulitzer Prize winner, Jericho Brown, will read from his book The Tradition and answer a few questions from the audience. This talk will be moderated by a local artist.
5:00pm - 7:00pm ET
Publisher's Poetry Slam
This poetry slam occurs outdoors in Nubian's Square Blair Lot. It will be filmed by Button Poetry and allots the winner of the slam, a local writer, a chap book deal from the publisher, Button Poetry. This event is only open to poetry living in Massachusetts. Hosted by Harlym 125.
More info about the slam
7:00pm - 9:00pm ET
Beast The Beat
Presented by DJ Why Sham, Beast the Beat is a women / fem rap concert.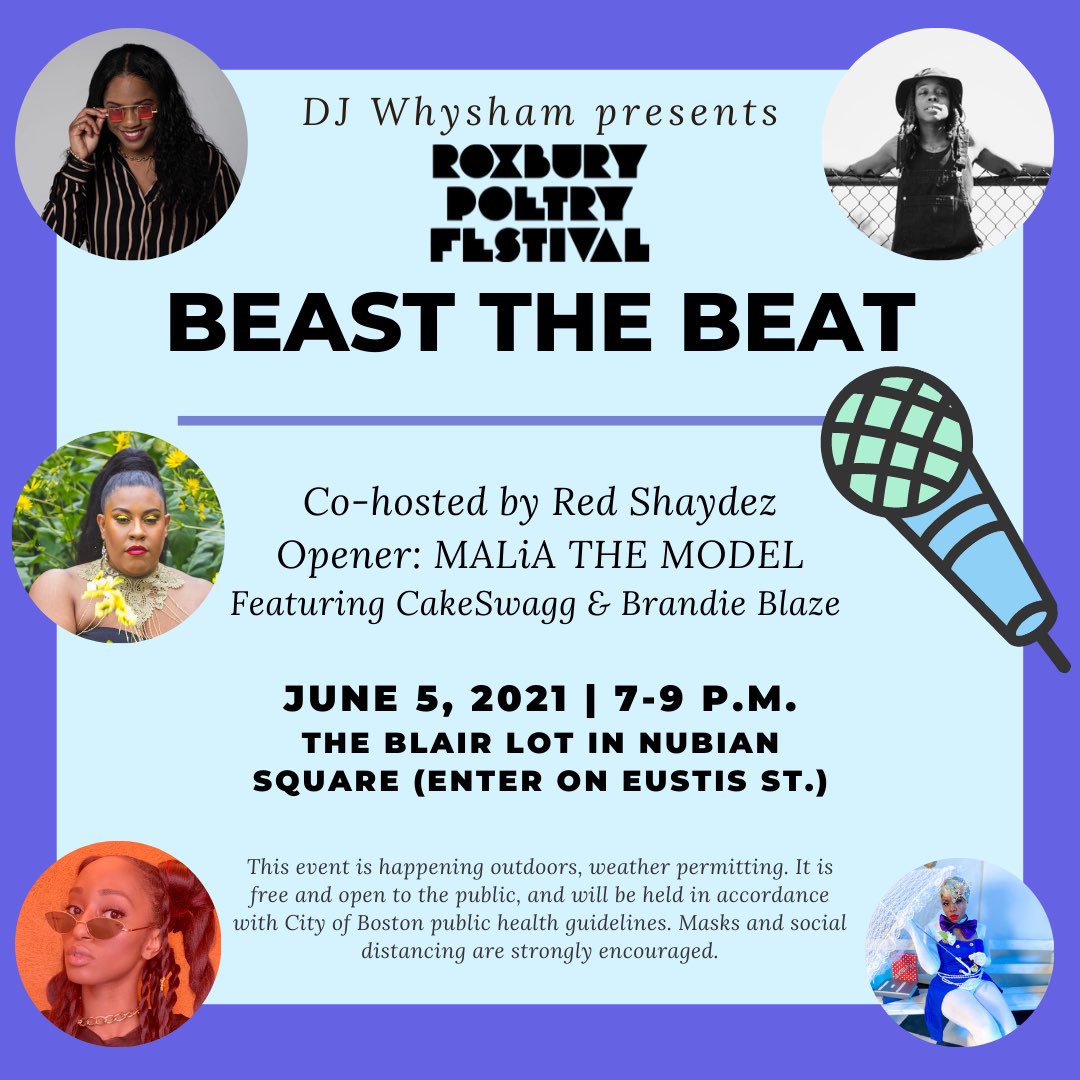 2021 Speakers
Meet Our Hosts
SublimeLuv

Womanist, Poet, Performer

spoken word artist, teaching artist, makeup artist, personal stylist, and social justice advocate. She is a product of private and public local school systems; and became an activist through words at an early age due to her contrasting experiences in those institutions. She has a fierce passion to combat climate change, gentrification, and systematic inequality; which disproportionately affect disadvantaged populations and people of the global majority. She has a Bachelor of Arts in Sociology from Simmons University. She has performed at the Isabella Stewart Gardner Museum where she opened up for Grammy nominated artist Maimouna Youssef, the Museum of Fine Arts, the city of Quincy's first Pride celebration, and has been an active performer in The Femme Show since 2014. Through her art and future endeavors, she aims to empower women and people of the global majority to impact visibility and positive global change.

Amber Aliyah Williams, aka SublimeLuv, (she / her) is a black queer womanist who always speaks her truth and believes "the personal is political." She is a Boston born and bred

Denise Washington

CEO, Curator, Poet

years, poetry has been popping up around the City of Boston, beyond and currently on-line, virtually, empowering communities one poem at a time! This Series create a safe space for people to breathe, listen, recite and enjoy! She is currently on the Advisory Board of The New England Poetry Club. She is an Educator in Boston, nurturing students, teaching mindfulness, yoga and Zumba to the whole school community, their families and staff. She was born and raised in Roxbury, Massachusetts; was a METCO student who graduated from Lincoln-Sudbury Regional High School; is an Elma Lewis School of Fine Arts Alum and a vocal student of the late John Andrew Ross. She holds a Master of Science degree in Early Childhood Education from Wheelock College and a Bachelor of Science Degree from Emerson College in Television Production/ Creative Writing. For several years, she lived in North Hollywood, California. While living there she discovered her love for writing television scripts, plays, poetry and Children's literature and she became a Television Writer on a show produced by HBO.

Denise (she / her) is so excited to be using the power of poetry to bring people together! She is the Founder and CEO of her #Pop-Up Poetry Series, A Denise Plays Hard Event. For the past 4

D Ruff

Poet, Performer, Curator

"if you can Feel It, you can Speak It" Open Mic movement, held at Bella Luna/ Milky Way in Jamaica Plain, for the last ten years. He has been writing and performing for over twenty years. Most of his poems stem from personal experiences and his environments and therefore range in topics from black love and heartbreak to inequality and black culture. D Ruff performs with inspiring passion in hopes that any black body will also want to find a way to express themselves, find that "tribe" and achieve their greatness, with the intention of leaving the cycle of hurt, pain, and negativity, right where it was showcased.

D Ruff (he / him) is a spoken word poet, author of "Staying on 94: Tales from a Misguided Soul," and Creative Director of the Boston Pulse Poetry program. He has been the co-host of the

Nakia Hill

Writer, Educator, Journalist

native of Roxbury, Hill was named a Boston Artist-in-Residence in 2018 by Mayor Marty Walsh. Hill is the author of two books: Water Carrier and I Still Did It. She is the first Black woman to become an editor at Boston Art Review. She is a co-writer on Here Comes the Break, a fictionalized YA drama podcast. You can find her cheffin' it up in the kitchen while immersing herself in good music and podcasts during her spare time.

Nakia Hill (she / her) is a writer, journalist, and educator who focuses on empowering Black women and girls to use writing as a tool for healing and resistance through book publishing. A

Angela Siew

Poet, Writer, Dreamer

Poetry Workshop. She is the recipient of an Academy of American Poets College Prize and has work published in Crab Orchard Review, Dialogist, The Merrimack Review and Art New England.

Angela Siew (she / her) is a multilingual poet who received her MFA from Emerson College. Her work has been supported by the Bread Loaf Writers' Conference and the Community of Writers

Lewis Morris

Poet, Beatmaker, MC

retain a refreshingly simplified approach to hip-hop production that harkens back to the boom-bap of the 90's while remaining fresh and new.

Lewis M. (he / him) is a Boston-based (and Providence born) poet, beatmaker, and MC. He has performed at the Apollo Theater in NYC, The Smithsonian, among many other venues. His beats
DJ WhySham Presents… BEAST THE BEAT